Most of the name-sightings from this month are thanks to celebrities and the new, creative or resurrected names they've been choosing. If you follow the blog's Facebook page then you'll already be up-to-date with many of these celebrity birth announcements, from Delilah-Rae and Elise-Rose to Miles Theodore and Cassius Ashley. Below are some of my favourites.
Ennis
At the beginning of May, actress Kirsten Dunst and actor Jesse Plemons welcomed their first child - a boy. Just over a week later it was revealed what they had named him Ennis Howard Plemons. 
Ennis is an Irish surname derived from inis meaning "island" or 'meadow along a river'* making it a relative of the Scottish Innes. It has an old-school style about it. Part retro Denis and Boris, part revived modern Ellis and Lewis. 
In England and Wales, Ennis has always been uncommon, though it did reach a high point of #2335 (9 boys) in 2016. It has also occasionally ranked for girls also:
Axel
Also at the beginning of May came the announcement that footballer Gareth Bale and fiancée Emma Rhys-Jones welcomed their third child and first son together whom they have named Axel Charles Bale, a brother for Alba Violet and Nava Valentina. Sticking with the 4-letter, vowel-to-consonant ratio theme, Axel strikes the same stylish Continental note as his sisters' names. 
The name Axel is the Old Swedish form of Axelen, itself the Old Danish form of the Biblical name Absalom meaning "father (is/of) peace."
Since 1996, Axel has been steadily rising in England and Wales. Up until 2004, it consistently had between 12 and 19 births per year but has seen more of a marked rise since 2010 when it reached #706 (43 births). It reached #362 in 2016 with 128 births.
Hart
The day after little Axel's name was announced, Australian model Miranda Kerr announced that she had given birth to her second son (her first with husband Evan Spiegel) whom they have named Hart Kerr Spiegel.
Hart is named in honour of Evan's grandfather, Hart H. Spiegel, a prominent San Francisco lawyer. He joins older half-brother Flynn Kerr Bloom (whose name also honours a grandparent). 
Not only does Hart have an honour name, just like his brother, they both also share a cool short-but-sweet swiftness with a surname style.
The name Hart has multiple meanings. Not only is it reminiscent of the word 'heart', it is also a vocabulary word in English referring to a stag, giving it a cool nature vibe. The surname Hart derives from the Old English heorot "hart, stag" via the Middle English hert. A famous bearer is Hart Crane (1899-1932), the American poet, who was born Harold Hart Crane. Hart was his mother's maiden name and which he adopted as his pen name. 
Hart can also be viewed as a short form of the Germanic name Hartmann, composed of the Old High German words harti "hard, strong" and mann "man." 
Hart is very rare in Britain and has only ranked in the official data of England and Wales (needing more than two births to qualify) once since 1996: in 2014 when three boys were registered with the name. 
Despite this, I think Hart has bags of potential to rise. It is brief and swift, surname-style, contains the fashionable 'ar' sound and has links to nature. Win win! 
Marvel
The next May celebrity to be announced was a girl! Pete Wentz of Fall Out Boy fame announced on 14th May that he and partner Meagan Camper welcomed a daughter whom they have named Marvel Jane Wentz. She joins Pete and Meagan's son Saint Lazslo Wentz and half-brother Bronx Mowgli Wentz (Pete's son with Ashlee Simpson). 
Love it or loath it, Marvel works as an edgy name on several levels. Firstly, it is a vocabulary word that is both a noun and a verb. The noun refers to "a wonderful or astonishing person or thing" and the verb means "to be filled with wonder or astonishment."*
Then there are the Marvel Comics which have recently had massive success as a series of films made by Marvel Studios -- the most recent of which was Avengers: Infinity War.
One character from the comics who is yet to appear in the films (though we know she will, and will be played by Brie Larson) is Captain Marvel alias of Carol Danvers who is pitted as one of the most powerful Marvel characters. There are hints that it is this Marvel that Pete and Meagan were thinking of when he writes in her birth announcement that "she's already ready to takeover the world."*
Marvel has some small usage in England and Wales but has never had more than 4 babies in any given year. In 2003 it was given to 4 girls (#3594) and it was given to 3 boys in 2007, 2008 and 2014, and 4 boys in 2012 (#3987).

Marvel may have been used more than this chart suggests as only names with 3 or more births are given. In some years, 1 or 2 children may have received the name.
Zalie
Not a celebrity birth, but the celebrity-inspired name, Zalie came to light this month with the wedding of Prince Harry and Meghan Markle -- now the Duke and Duchess of Sussex. 
Zalie Warren was one of Meghan's bridesmaids alongside Princess Charlotte, Florence van Cutsem, Rylan Litt, Remi Litt and Isabel Veronica "Ivy" Mulroney and pageboys Prince George, Jasper Dyer, Brian Mulroney and John Mulroney.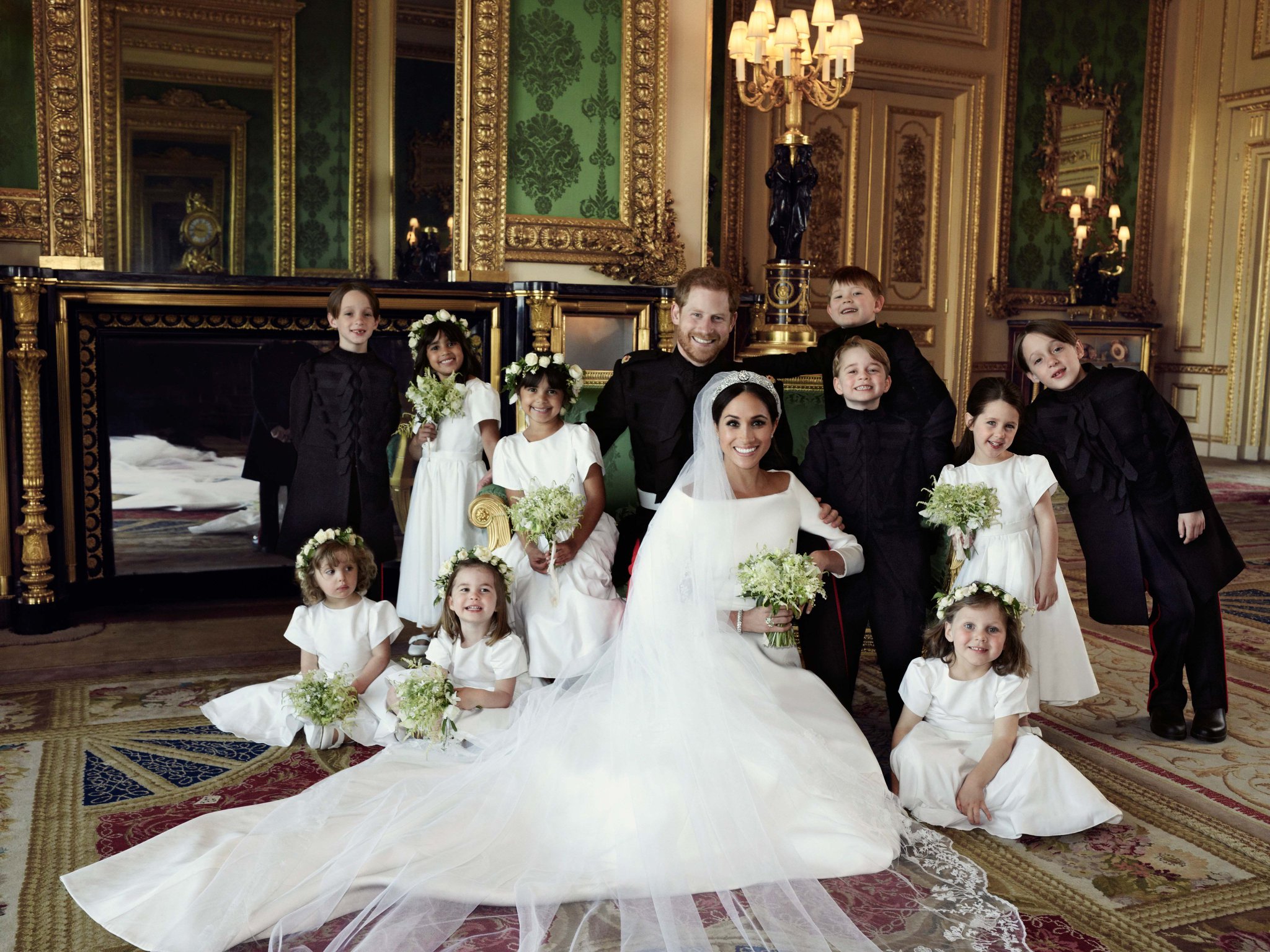 Zalie, aged 2, was the youngest of the bridesmaids. She is the daughter of Jake and Zoe Warren and the goddaughter of Prince Harry. Jake is a close friend of Prince Harry -- they attended Ludgrove preparatory school and Eton College together and Jake himself is one of Diana, Princess of Wales's godson. 
Zalie has a twin sister named India. When interviewed by the Daily Mail shortly after their birth, Zoe said, "There's no particular inspiration behind the names. We just really liked them." 
Zalie is a very uncommon name (it has not ranked at all in the official data of England and Wales since 1996), but one that I have come across before in Times and Telegraph announcements (such as here in 1997) indicating its upper-crust appeal. [India has long been a Times and Telegraph favourite]. 
It is difficult to pin point the origin of Zalie. Most likely it was coined based on sound and its similarity to names like Sadie, Zelie and Millie. There are birth records for Zalie dating from 1872 for both boys and girls in England and Wales. Most of the 19th century examples are male, from London, and often Jewish families from Poland or Russia. In some cases, it has been used as a diminutive for Azalea, in others I have found it used as a nickname for Israel. Sometimes, Zalie could be from Zali, a Polish diminutive of Sarah. 
The pronunciation is also unclear. For British actress and playwright Zalie Burrow, it is pronounced ZAY-lee.
So which of these celebrity-inspired names do you think will rise? Well, I think they all have a good chance of getting more usage and exposure, but I doubt Ennis or Marvel will go mainstream. Axel and Hart however, I think have a lot of potential.